Are you a morning person? Up and at 'em, ready to face the day?
Or are mornings a hectic dash of coffee, splashing water on your face, wrangling children, and rushing out the door five minutes late?
Either way, check out these four quick and healthy breakfasts. They all come together in less than ten minutes, and provide all the nutrition and energy you need.
These recipes make one serving. If you need to feed someone else (or you're really hungry), they're easy to double.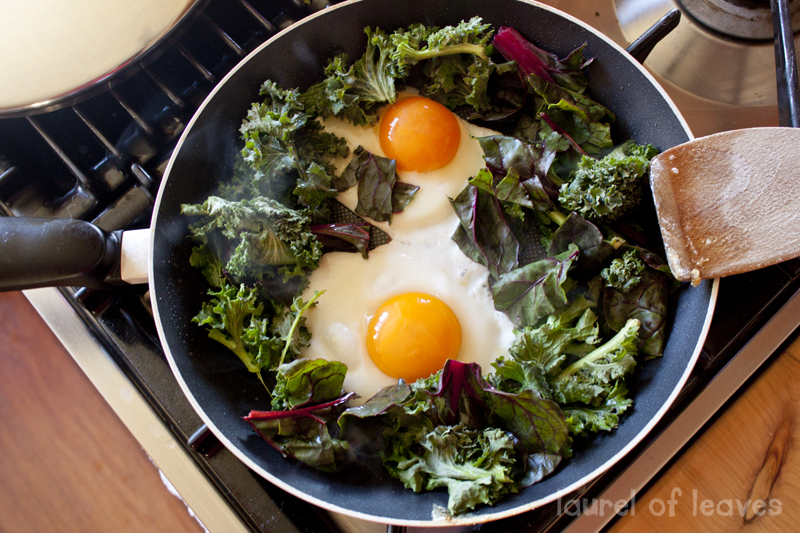 1. Green Eggs:
2 handfuls baby spinach or other baby greens
1 egg
Salt, pepper, and dried herbs of choice (sage & rosemary are both good)
Grass-fed butter, or coconut oil
Heat oil in a skillet over medium heat. Add spinach and cook until wilted. Crack the egg right into the skillet and scramble in the pan. Add salt, pepper and herbs and cook until egg is done.
Serve with avocado and salsa, over some healthy toast (I'm currently in love with Farm & Sparrow spelt bread.)
2. Yogurt Parfait
Homemade granola (see recipe below) – about 1 cup
Plain yogurt (about 1 cup)
Layer yogurt and granola in a fancy glass. Or just mix them together in a bowl.
This one's good to take on the go – keep the yogurt and granola separate until ready to eat.
3. Breakfast Wheel
1 apple, cut into slices
1 scoop almond butter or nut butter of choice
Cinnamon
Fancy version: Arrange apples in a circle around the edge of a small plate. Place almond butter in the middle. Sprinkle cinnamon.
Non-fancy version: Dip apple slices in the nut butter; skip the cinnamon.
4. Green Smoothie
3 handfuls baby greens
¼ C water
¼ avocado
1 stalk celery, cut into chunks
1 apple, cut into chunks
½ C blueberries
3 strawberries (frozen is okay for both berries)
2 T coconut nectar
2-3 sprigs of parsley
Juice of ½ a lemon
Pinch salt
1 ½ T almond butter, tahini or other nut butter
Almond milk or other nut milk (coconut would be good)
Blend greens, water and avocado. Add remaining ingredients and blend on high for two minutes. Adjust liquid to desired thickness. If you want a sweeter smoothie, you could add pineapple instead of blueberries.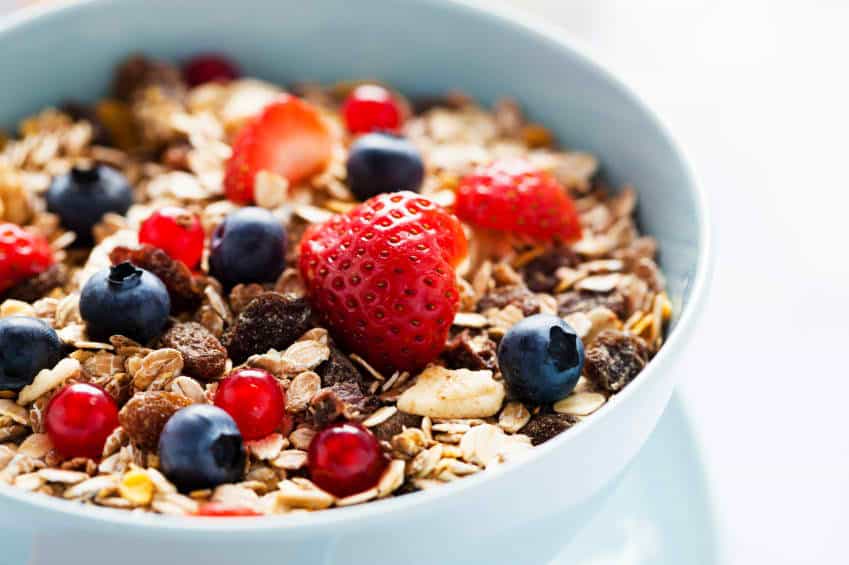 Bonus Recipe: Super Simple Granola
You can prepare this on your day off (it takes five minutes to put together; the rest of the time it just sits in the oven.) It should last all week.
3 cups rolled oats (not quick oats)
2 handfuls slivered almonds (chopped walnuts or pecans would be good too)
Handful shredded coconut
3 tsp. cinnamon
A few pinches of sea salt
1/2 cup coconut oil
1/4 cup raw honey
4 tbsp Grade B maple syrup
Water as needed
Preheat oven to 275°. Place all wet ingredients in a small pot over low heat.
Combine all dry ingredients in a large bowl. When oil and honey are melted, add to the bowl along with maple syrup and stir to combine. If the mixture seems a little dry to you, add water as needed. It should stay pretty loose though, so add slowly.
Spread mixture on a large baking sheet and bake for 45 minutes, tossing a couple times.
If you like dried fruit, add it to the warm granola right after you take it out of the oven.
Store in a mason jar with a tight-fitting lid. Serve with yogurt  or applesauce for breakfast.
I'm taking recipe requests for the month of March. Gluten-free? Vegetarian? Meals for one? What do you need the most? Tell me in the comments below.